As per Wikedpedia, the history of baklava is not well-documented. It has been claimed by many ethnic groups, but there is strong evidence that it is of Central Asian Turkic origin, with its current form being developed in the imperial kitchens of the Topkapı Palace.
But one thing that I sure of is that its a tasty treat and not that hard to make by yourself.This makes three dozen
Ingredients:
1 (16 ounce) package phyllo dough
1 pound chopped nuts(I almost ground it to a bread crumb consistency - used a mix of pistachios and almonds)
1 cup butter(melted)
1 teaspoon ground cinnamon
1/2 cup water
1 cup sugar
1 teaspoon vanilla extract
3 cloves
a dash of nutmeg
1/2 cup honey
1tsp lemon juice
Method:
Preheat oven to 325 degrees F. Butter the bottoms and sides of a 9x13 inch pan.
Grind the nuts and toss it with cinnamon. Set aside. Unroll phyllo dough. Cut whole stack in half to fit pan. Cover phyllo with a dampened cloth to keep from drying out as you work. Place two sheets of dough in pan, butter thoroughly using a pastry brush. Repeat until you have 8 sheets layered. Sprinkle 2 - 3 tablespoons of nut mixture on top. Top with two sheets of dough, butter, nuts, layering as you go. The top layer should be about 6 - 8 sheets deep.
Using a sharp knife cut into diamond or square shapes. See that the cut is not all the way to the bottom of the pan. You may cut into 4 long rows and the make diagonal cuts. Bake for about 30 minutes. Bake until baklava is golden and crisp.
Make syrup while baklava is being baked. Boil sugar ,water and cloves until sugar is melted and to a one thread consistency. Add vanilla,lemon juice and honey.
Remove baklava from oven and immediately pour the syrup over it. It is better to cool down the syrup prior to pouring. Let it cool.You can garnish it with more powdered nuts and nutmeg. Cut the baklava all the way to the bottom. Serve in cupcake liners. This tastes best the next day. Leave it uncovered as it gets soggy if it is wrapped up.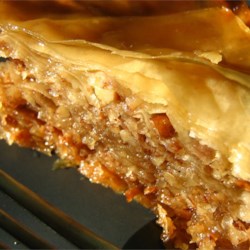 "
lezzetli baklava"
Source: Allrecipes